We provide quality products and services, c

onsistently,
reliably responsibly and continuously applying some of the world's
most difficult to handle chemical technologies.
Our independent one-site,
single entity corporate setup enables
Simple, direct
decider access
Focus on customers
and business
1947


Foundation of Istituto Chemioterapico Italiano (I.C.I.)
1984


Foundation of Prime European Therapeuticals S.p.A (Euticals)
2008


Mandarin Capital Partners becomes majority Euticals shareholder
2012


Clessidra, an Italian Financial Fund becomes majority Euticals shareholder
2016


AMRI acquired Euticals Group
2019


Effective August 1, Livia acquires Lodi site, and brands it Archimica S.p.A.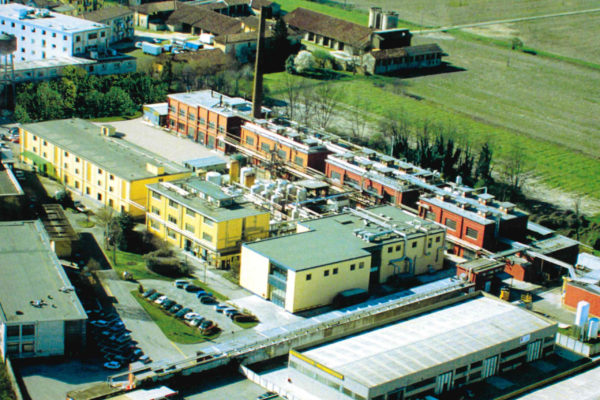 Own products (APIs) for the generic pharmaceutical industry.
Synthesis: Manufacturing services and products for all user industries,
using Archimica´s highly differentiated setup and technologies
APIs, Building blocks, GMP intermediates
For all global markets including the United States of America,
in total Archimica products reach 25 countries.

API - Active Pharmaceutical Ingredient Products
Cytarabine
Glycerophosphoryl-Choline (GPC)
Glycerophosphorylethanolamine (GPE)
Hydroxyurea
Mianserin Hydrochloride
Oxcarbazepine
Pyridine/Sulfur Trioxide
Sucralfate
Sucrose Octasulfate Sodium/Potassium salt
Sulfathiazole
Amtolmetin Guacil
Aurothiomalate Sodium
Azanidazole
Bromfenac
Capecitabine
Citicoline
Diacereine
Dihydralazine sulfate
Disopyramide
Fludarabine
Hydralazine hydrochloride
Iodocasein
Lithium Carbonate
Pentetrazole
Pirenzepine Dihydrochloride
Sulfapyridine
Sulthiame
Thenfadil
Tolmetin
Vidarabine
BUSINESS & ADMINISTRATION
Reactor Capacity: About 250 m3 (stainless steel and glass line).
Temperature Range: -20 to 150°.
Pressure Range: 10 mbar to 5 bar.
Reactor/Vessel Volume Range: 50 to 10.000 liter.
Dryers: Fluid bed dryer, agitated vacuum pan dryer, vacuum horizontal agitated dryer, vacuum double cone dryer, Planex® dryer, tray dryer.
Centrifuges: Vertical axis top discharge centrifuges, vertical axis bottom discharge centrifuges, horizontal axis peeler centrifuges.
Ancillary Equipment: Filter Press, Sieves, Filters, Ultra Filters.
F1 – QC Laboratory
F2A – Multi-Purpose Plant
F3A – Raw Materials, Intermediates and APIs warehouse
F3B – Finishing & Drying Plant (ISO 8, controlled environment)
F5A – Hydroxyurea Plant
F5B – Multi-Purpose Plant
F5C – Cytarabine Plant
F6A – Sucralfate Plant
F6B – Sulfamidics Plant
F7 – Multi-Purpose Plant
F8 – Utilities
Highly flexible and broad permit for all technologies, reagents and solvents.
Broad range of extraordinary hazardous chemistry and chemicals processable in large scale:
solvents, including chlorinated and toxic solvents;

Strong acids including phosphorous oxychloride, chlorosulfonicacid, hydrofluoric acid;

Highly flammable, highly corrosive, explosive chemicals.
Residual thermal oxidizer allowing trace gas contamination removal, all waste gas streams.
Seveso guideline compliant.
Own on-site waste water treatment, backed by external partners.
Solvent recovery and tank farms.
Large Scale Deacylated Phospholipids production (GPC, GPE)
Large Scale Use of Pyridine as reagent or solvent, as well as pyridine-SO3 complex handling.
Cytostatics manufacturing/drying: Nucleosides.
Heterocyclic chemistry: Pyridines, Piperazines, Quinoxalines, Quinolones, Quinazolinones, Benzofuranes.
Chromatographic purification with ionic resins.
Micronization (third party partners).
Chlorosulfonic acid
Sulfur trioxide
Pyridine
Ethylene oxide
Triphosgene
Hydrazine, Azides, Diphenyl-phosphorylazide, Acetyl Nitrate
Halogen chemistry:
Fluorine, chlorine, bromine, iodine

Hydrofluoric acid

Chlorine, chlorinating agents

Bromine, brominating agents (NBS, dibromohydantoin, phosphorous bromides)

Methylene diiodide, methyliodide, iodoform, TMSOZ
API Registration Form: AMA -26/2015
GMP Certificate: NBF/10/2015V

US-FDA



Last inspection April 2017

AIFA



Last Inspection July 2017 KFDA



Last inspection October 2011

Ministry of Health Veterinary



Last periodic inspection June 2019
Discover our latest news and articles about
products, research and services.
L-α-Glycerophosphoryl-ethanolamine (GPE) is a precursor of neurotransmitters located in the lipid membranes of cells. Scientific studies show that modifications of these membranes are contributing factors in disease or age-related memory

Read more

Oxcarbazepine is an important drug in treatment of epilepsy and related disorders. It is successfully applied to patients globally in a wide variety of presentations. Recent more stringent quality requirements

Read more
GPS coordinates


Latitude: 45

°

19' 25,3" N
Longitude: 9

°

27' 57,7'' E
The site is located in Northern Italy in Lombardia about 30 km South of Milano and Linate airport.
Access to the facility is the motorway A1 Milano-Bologna and the route SS9 Via Emilia.
Site address
Viale Milano 86,
26900 Lodi (LO) Italy
Phone: +39 0371 49021
Fax: +39 0371 610019
Email: contact@archimica.com


 Linkedin